Truck Accident Attorney Las Vegas, Nevada - Dimopoulos Injury Law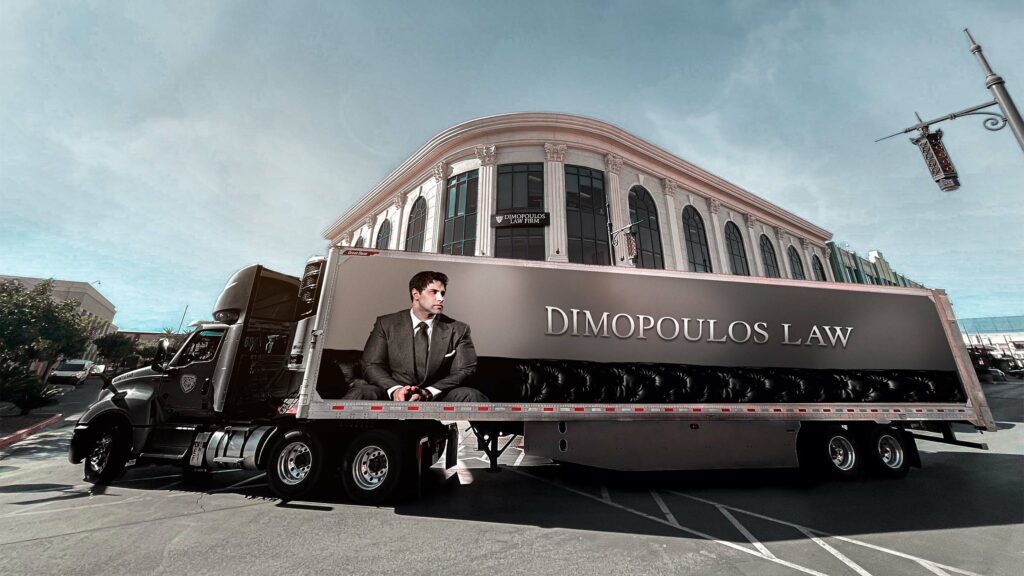 In Las Vegas, Nevada, the land of tourism, world-class entertainment, and international cuisine, semi-trucks are part of our everyday life. We encounter them on the freeway, parked behind the grocery store, and on almost every city street. However, even though the majority of times 18 wheelers pose no harm, the accidents involving them can be extraordinarily dangerous and downright deadly. Just check out these statistics by the Federal Motor Carrier Safety Administration. Their research from 2018 shows that out of approximately 13.2 million trucks registered in the U.S., 151,000 people were injured in large truck crashes. Furthermore, 4,862 large trucks were involved in fatal crashes. Their research also shows that commercial truck accident rates are increasing every year. Should you be involved in a truck accident in Nevada, you will need a law firm that specializes in truck accident law.
Commercial truck accidents do not only involve the driver, they also include many other parties. A civilian car accident mainly deals with the drivers, insurance companies, and lawyers. Commercial truck companies on the other hand have a lot more people to go through. Parties involved may include the driver, the truck owner, the company that owns the truck, the employer that hired the driver, the company that built the truck, the company that loaded the truck, each of their insurance companies, and more.
The settlement process is further complicated as each party does everything they can to avoid paying the damages you are owed and often trying to avoid any liability at all. Therefore, it's important to find an experienced truck accident attorney in Las Vegas to help you navigate these issues.
At Dimopoulos Injury Law, we prevent big truck companies from taking advantage of our clients. We have secured millions of dollars in damages for our clients and will work to make sure you get maximum compensation for your injuries. Our law firm offers free consultations and only charges a contingency fee. This means we only get paid when we win your case. So, losing isn't an option for Dimopoulos Injury Law. Not only that, but we do everything in our power to get you what you deserve. While you may be overwhelmed with the accident, we can help make sense of all the complications and red tape. We also fill out all of the tedious paperwork and investigate the causes and liability of the accident while you heal from your emotional and/or physical trauma from the accident. We are available 24/7. Accidents don't rest, so why should we? We are there for you whenever you need us.
What happens if you get hit by a truck?
So, you're struck by a big rig tractor-trailer, what's the first thing you do? Call 911. Serious truck accidents are almost always catastrophic to you and the car. Even if you think you are okay, call anyway. You never know what internal injuries you may have been sustained. It is important to exchange insurance and contact information. After a truck accident, be sure to collect as much information as you can.
Photographs of the Big Rig Accident
Next, if you are able to, gather evidence. Take photos!
Take pictures of:
The condition of all vehicles
The location of the vehicles after the accident
The company name and/or logo on the truck
License plates of all parties
Road conditions
Tires of all vehicles
Tire marks on streets, if applicable
The more photos the better. These photos may help you with your claim.
Gather Other Semi Truck Accident Evidence for Liability
Your next step is to collect as much information from all parties directly involved.
You'll need:
Truck driver's name, address, and phone number
The commercial driver's license number
Insurance information
The trucking company's name and contact information
Company insurance information
If possible, witness accounts and their contact information to help provide insight into what happened. Witness information may help your accident lawyer with your claim.
Fill out a police report and get the name and badge number of the responding officer. Explain everything that happened as you saw it.
You may be overwhelmed with the number of company representatives that arrive at the scene but try to take their information as well since it may relate to the truck driver.
Seek Medical Attention for Possible Injuries, Pain, and Suffering
Your goal at the scene is to protect yourself from liability and strengthen your case. After all is said and done, see your medical doctor as soon as you can. Even seemingly minor injuries can cause long-term damage. Also, seeking medical attention after the accident also can help your claim. Your injuries are evidence of the severity of the accident. It's important to take note of what hurts and how painful it is.
If you're injured, but don't have medical insurance, we can still work with you. Medical insurance and medical bills should be the last thing on your mind. You should not suffer from injuries because you can't pay for it. Always document your injuries to help with your claim. If liability against the truck driver or other parties involved can be proved, medical compensation may be part of your settlement in court.
Types of Compensation for Truck Accidents
Truck accident injury compensations may include, but are not limited to, payment towards the following:
Surgery for serious injuries
Ambulance transportation
Prescription drugs
Medical tests
Physical therapy
Broken bones
X-rays
MRIs
Emotional trauma
Physical trauma
Traumatic brain injuries
Minor injuries
Other Possible Compensations for Commercial Truck Accident Victims
Lost Wages
After an accident, victims of truck accidents in Las Vegas may not be able to go to their place of employment for an extended period of time. They may miss working hours to go to the doctor or to receive treatment for their injuries. These are also hours you won't be able to get back. This is something that can be discussed with our team of Las Vegas truck accident lawyers.
Emotional Trauma
Emotional trauma is when your mental state is negatively affected by the accident. This could include anxiety, post-traumatic stress disorder, depression, extreme paranoia of driving, and other types of distress.
Detail what happened before, during, and after the accident with the Big Rig
All information at the scene of the accident is important. This may include:
The weather – The weather can have a huge impact on the way the truck moves. Trucks carry over 10,000lbs. of mass behind them. If it is raining, the water may pick up oil from the street causing the truck to slip when it brakes.
Conditions of the road—Take note of any potholes, road debris, construction, traffic, or any other factors.
Behavior of the drivers involved in the accident – were they swerving? When they got out of their vehicle, were they slurring their speech? Were their eyes hazy?
What was said by the truck driver after the accident? Did they apologize? Mention anything about how long they've been driving?
Number of people involved in the accident?
Responding police officer's name?
Contact Insurance Companies
It's extremely important that you report the accident to your insurance company - and only your insurance company. Give your insurance a detailed explanation of what happened and provide the evidence you gathered at the scene that shows you are not at fault. Never talk to the other insurance companies as they may twist your words and use it against you later on. One of our attorneys will help you interact with other people when the time comes.
Receive a Free Consultation from Dimopoulos Injury Law in Las Vegas, Nevada
After you've taken the necessary steps, you can finally search for a Las Vegas truck accident attorney. At Dimopoulos Injury Law, we hold trucking companies and their drivers liable. We personally identify the causes of trucking accidents. We guide you through everything you need to do in order to receive maximum compensation from your truck accident claim.
How Do I Pick A Winning Truck Accident Lawyer?
Read their reviews on Yelp or their testimonials on their website. These will give you a personal feel of how they handle unique cases.
Get to know the law firm by asking them questions about how they will handle the case should they accept you. Find out if they have experience with cases similar to yours. Experience is important! If they are new to handling truck accident cases, they may not know the nuances and fine details on how to handle your case. Truck accident cases leave no room for error. Don't settle for a lawyer that doesn't know what they are doing as it may cost you more financially and emotionally in the long run. Leave it to the ones who know what they are doing.
Another question you should ask is if they are able to handle your case. If the law firm is small, they may not have the resources (time, energy, experience) necessary to win your case. Cases as involved as truck accidents require vast amounts of time and energy. We recommend you take these cases to a highly staffed professional team, especially if they have medical record experience.
One of the most important questions you can ask a truck accident attorney is their assessment of your case. Do they think you have a chance to win? Every case may sound similar and yours may even seem like a case that wouldn't play in your favor. However, understand that specific laws and circumstances can drastically change the results. A good law firm knows their limitations and will tell you if they can or cannot take the case.
Types of Commercial Truck Accidents
There are different types of truck accidents:
Jackknife Accidents – This occurs when the tractor trailer swings towards the cab even though the cab of the truck isn't moving. This is often caused by the truck braking suddenly.
Angle collisions, also known as T-Bones – This type of accident, while rare, is often fatal. Semi-trucks weigh up to 80,000 pounds. When a vehicle is impacted from the side, it takes on the full force of that weight.
Rollover Accidents- This type of accident occurs because of a truck driver losing control of their semi-tractor trailer. This is often a more serious truck accident to the driver rather than the vehicles around it. This is most commonly caused by a tire blowout.
Rear-end – When truck drivers are distracted, driving too fast, or tailgating, this will most likely lead to a rear-end collision. Trucks require more time and distance to brake properly and avoid road hazards.
Head-on Truck Accidents are extremely rare, but they do happen. They are also very fatal. It can occur when a truck loses control and swerves to the other side of the lane.
Each type of accident can result in serious or fatal injuries. Pay attention to the road and be wary of potential accidents.
Cause of Truck Driver Accidents
Truck Driver's Negligence
Commercial truck drivers are bound by strict safety and hours-of-service regulations. Violation of these regulations is not only illegal, but it can also lead to devastating accidents. Common problems include:
Driver fatigue or drowsy driving - often related to driving for longer than legally allowed—It is often encouraged by trucking companies to drive more hours than drivers legally should. The reason for the limitation is to prevent drivers from overworking themselves and falling asleep while driving. Strict deadlines pressure companies to have drivers go over their legal hours to make the delivery deadline.
Fatigued driving related to sleep apnea and other problematic medical conditions - Medical conditions are common and while understandable, if left untreated, they can impact the driver's ability to operate the vehicle and cause harm to people in the surrounding vicinity.
Driving under the influence of alcohol or drugs - While not as common as fatigued or drowsy driving, it is the employer's responsibility to ensure that people driving their trucks are not intoxicated. If the driver is found to be under the influence of illegal substances, the driver and employer can face serious consequences and you can take court action.
Distracted driving (involving cellphones, CB radios and other electronic equipment) - It is against the law to text and drive for all drivers on the road. It also important to note that hands-free devices are about as distracting as using the hands. If the driver was distracted in any way, that will help you.
Speeding and aggressive driving - Road rage can get the best of us sometimes. It is important to stay calm and not be aggressive towards other drivers. Trucks can weigh as much as 80,000 pounds. Aggressive driving can easily kill someone.
Falsifying logbooks to hide the number of hours driven - Depending on the employer, the driver may purposely write down the wrong hours so that they can get to their destination faster than the deadline. This is a serious violation and can get them in hot water if the driver is found to have falsified their information.
Doesn't check their blind spot - A driver that doesn't look at their blind spot can force cars off the road or hit other cars which may cause serious injury or even death.
Vehicle Maintenance and Safety Issues
Trucking accidents can also be caused by issues with the vehicle or the way it is being used. These include:
Worn-out or defective brakes – Brakes can be overlooked by the maintenance crew. If an accident occurs, they would most likely be the ones to blame for the accident.
Failure to have the 18 wheeler regularly inspected and repaired – There may be defective parts that contributed to the accident
Carrying loads that violate weight limits
Carrying cargo that is unbalanced or improperly secured
Carrying dangerous cargo without proper certification
The U.S. Department of Transportation have established carry limitations on how much cargo a semi-truck can hold.
Single Axle – 20,000 pounds maximum
Tandem Axle—34,000 pounds maximum
Gross Vehicle Weight—80,000 pounds maximum
If these weight limitations are not followed, the truck won't have the ability to brake on time or turn within a reasonable radius.
There are varying rules and regulations to how items should be tied down on a semi-truck. These regulations can be important for your case for if they are not followed and you may be held not liable for the accident. You can check out the rules here.
Trucking Company Liability
Companies are responsible for the safety and reliability of their trucks and drivers. Common liability issues include:
Failure to properly screen drivers before hiring them
Failure to train and monitor drivers
Failure to have vehicles regularly inspected and repaired
Failure to ensure compliance with trucking industry regulations
Continuing to operate in violation of service suspension orders and other regulatory enforcement measures
After a commercial trucking accident, it is crucial for victims and their families to consult with a knowledgeable personal injury lawyer like those at our firm. Evidence needs to be uncovered and preserved, and all possible causes must be investigated.
When to File a Truck Accident Claim
In the state of Nevada, the sooner you can contact your lawyer, the better. By law, you have a maximum of two years until you can no longer file a claim and open a lawsuit against the trucking company. There are varying steps to take when you file a claim, and if you contact Dimopoulos Injury Law as soon as possible, that gives us more time to examine your case and pursue compensation for medical and physical expenses.
Two years is not a lot of time. It's absolutely crucial to not wait until you're feeling better. The court system has many processes and steps that need to be taken before your claim can be considered viable. Reach out to us as soon as possible to start receiving your due processes.
Here at Dimopoulos Injury Law, we care about our clients immeasurably. We help people to the highest degree and to secure the compensation they deserve. Our goal is to fight for justice with fairness and to protect our local community from being taken advantage of. We have pursued many cases that resulted in success. Let us make your case successful. We have a fully dedicated team waiting to represent you. We'll give you a personalized experience solely designed to protect your rights as a human being. It is our duty as injury lawyers to give you the respect, time, and space you deserve while you're going through a difficult and traumatic time. We protect you from insurance companies that will try to pay you less than what is fair. We will ensure that your physical, emotional, and financial recovery are our top priority.
Until you're able to make a full recovery with the resources given to you, we will not be satisfied. Call us for a free consultation. All of our cases are on a contingency fee basis. If we lose the claim, you don't pay us a dime. Our skills in commercial truck accidents have given other victims a second chance at life. To learn more about how Dimopoulos Injury Law can help you, call (702) 476-0005 today.